Why Multi-Room Audio is the solution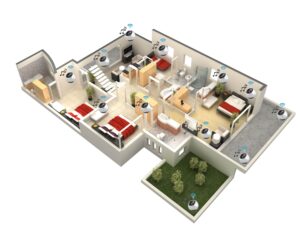 Having the ability to stream music to any room in your home can be very beneficial whether you are working, relaxing, or trying to entertain. Multi-Room audio can help accomplish all of this. Music is something everyone can enjoy. The main benefit of multi-room audio is that it is convenient to control. With this system you can be playing music all throughout the house or just in the kitchen while you are cooking. With our Multi-room audio system you will also get higher quality sound versus just using a smart phone to play music.
With automation and Multi-room control you can do some pretty interesting things. For example if you wanted to wake up to your favorite radio station you can setup an alarm for that station to start playing in the bedroom at a specific time every morning. We can also setup scenes to easily be ready for a party and have all zones playing music to entertain your guests.
Contact us today to get a free quote on a customized multi-room audio system for your home or business.
Take control of your home
At Tulsa Smart Home Solutions, we believe in building creative solutions for today – and tomorrow's – problems through technology. One of the ways we do this is by putting together the best home automation system for your needs and your budget. We work to provide the best possible prices on the market through close connections with our various product vendors. Through these strategic partnerships, Tulsa Smart Home Solutions can offer prices lower than other Tulsa home automation installers.
Make sure to check out our image gallery and facebook page.