Why TV Mounting is best the solution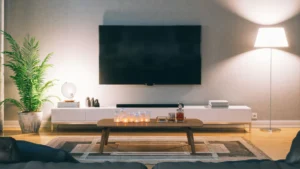 By using a TV mounting solution, you will gain a sizable amount of floor space that would otherwise be taken up by a TV stand or media cabinet. We can also relocate any equipment to another location so all you see is the TV on the wall. This gives your entertainment area a cleaner, less cluttered environment. This is especially beneficial for people living in small apartments, condos, and tiny homes to save on space.
Also you can gain better viewing angles for you tv and be more comfortable to watch. With extension, swivel, and tilting capabilities mounting can help reduce glare, improve line of sight and even give you the ability to watch TV from other rooms.
Contact us today to get a free quote on a customized home automation system for your home or business.
Also, keep a look out for upcoming deals on this service. We look forward to being able to assist you on getting your equipment looking good and done the right way. We are working on new simple solutions and cost effective pricing so that everyone can enjoy having a TV on a wall and looking clean in your home. Monthly Deals